PanelPRO: The Intelligent Laboratory Panel Painting Machine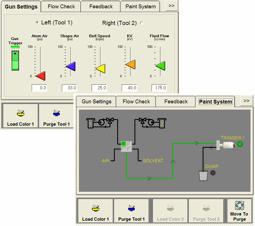 Preparing test panels and reference samples requires accuracy. Too thick or too thin a film can change the appearance of many coatings. In a test lab, flexibility and ease of use can save countless hours. The PanelPRO is specifically designed to provide the greatest flexibility and technical performance for the least amount of money in the market.
Multiple Atomizer Support - The PanelPRO is designed to carry two atomizers allowing it to duplicate nearly any paint application: gun / gun, bell / gun and bell / bell base coating are simple.
Atomizer Control - The Artomation universal bell speed controller and electrostatic controls can be integrated with the PanelPRO for a complete finishing machine.
Integrated Fluid Delivery - The integrated fluid delivery system allows for base and clear to be applied using the same machine. Flash time is part of the program, so a stop watch is not needed.
Programmable - Any path or combination of paths are programmed using the ARTomation patented software.
Flexible: Small Footprint for Existing Booths - Available in a full range of sizes. Small enough to fit into an existing booth or large enough to accommodate a much larger spray window.
Explosion Proof - Systems are available for both explosion proof and dust proof applications.
Precise - The PanelPRO motion system incorporates heavy-duty precision servo drive motors, a unique non-slip cogged belt and digital control technology to deliver repeatable, accurate positioning.
Easy to Use - The Windows OS interface is intuitive and easy to use.
Video Demonstrations
See other Artomation products/services.