PanelPRO+ (Plus Tool Changer)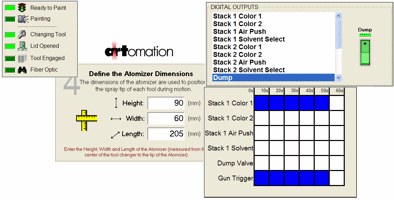 PanelPRO+ offers all the same great panel painting advantages as our standard PanelPro design plus the ability to automatically switch from one spray applicator to another. With designs that can accommodate from two to six applicators, Panel PRO+ can handle a wide range of spray guns and rotary atomizers. Now, you can duplicate in the lab exactly what your customer is doing on the line. This machine is ideal for paint formulators and additive manufacturers who need to simulate appearance on a wide range of parts using several different spray methods. Panel PRO+ provides consistent, repeatable laboratory results. The PanelPRO+ Windows-based operating software provides effortless control of the spray gun motion and application parameters (such flow rate, air pressures and electrostatic controls).
Automatic Tool Change - Automatic tool changing for up to six bells or spray guns, with precision quick disconnects for all fluid and air lines, allows you to quickly duplicate your customer's exact spray equipment and conditions for a precise color match. Standard units are available for 2, 4, or 6 spray guns or belts.
Atomizer Control - The Artomation universal bell speed controller and electrostatic controls can be integrated with the PanelPRO+ for a complete finishing machine.
Integrated Fluid Delivery - The integrated fluid delivery system allows for base and clear to be applied using the same machine. Flash time is part of the program, so a stop watch is not needed.
Easy to Use - The Windows OS interface is intuitive and easy to use.
Precise - The PanelPRO+ motion system uses heavy-duty precision servo drive motors, a unique non-slip cogged belt and digital control technology to deliver repeatable, accurate positioning.
Flexible - With a large 72"W x 60"H envelope and computer software which allows you to paint literally anywhere in that space, PanelPRO+ provides unparalleled flexibility.
Video Demonstrations
See other Artomation products/services.