PanelPro-H (Horizontal Machine): Designed for Crater Testing and Horizontal Color Matching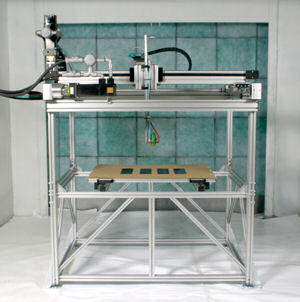 The PanelPRO series of machines are designed for creating perfect test panels...every time. Multiple path styles (horizontal square, vertical square and W pattern) can reproduce nearly any type of painting motion including manual painting, robot painting and reciprocator painting. The design makes panel painting easy, safe and repeatable.
Features:
graphical path visualization makes operation simple

the easy to use computer interface is specifically designed for panel painting making it easy to learn and intuitive to use

adjustable parameters: Path Style, Speed, Stroke Length, Number of Passes, Index between Passes, Number of Coats, Flash time between Coats and Atomizer control Settings (Atomization, Pattern, Bell Speed, etc.)

stored recipes are quickly retrieved and executed (50 recipes standard)

usage data and statistics are stored on a removable drive

integrated gun trigger

built on a structural aluminum frame wrapped in a robust stainless steel cabinet

the slide out panel drawer can be reached without bending over the machine, reducing the risk of repetitive motion injury to the operator

precision servo motors reproduce speed and position with extreme accuracy

designed with "off the self" components eliminating the need to "board swap" significantly reducing maintenance costs
Available Models and Options:
The PanelPro-H can be equipped with most electrostatic or non-electrostatic spray guns. Quick color change capability and small sample size make it perfect for Color Matching.
Specifications:
24" x 24" panel capable based on a flat fan pattern (standard)

horizontal travel: 28", vertical travel: 28" (standard)

gun travel speed: 24 in/sec (600 mm/sec) (standard)

can be sized to fit into any existing spray booth (explosion proof in booth components)
Options:
automatic air pressure control (transducer)

automatic fluid control (transducer)

additional spray gun control for base/base or base/clear applications.

integrated Bell Speed Control (includes bearing air and trigger interlocks)

integrated Fluid Delivery (1 or 2 pumps)

integrated Electrostatic Control

quick Color Change

custom sized machine

faster travel speeds
Specification Sheet
Video Demonstrations
See other Artomation products/services.