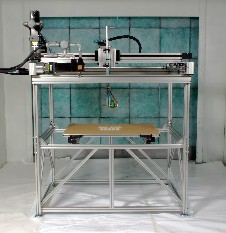 MAX Series: Custom Multi Axis Gun Movers and Complete Systems
The MAX Series is an economical series of custom designed gun movers. The MAX series can be designed in nearly any size to coat products ranging from lighting fixtures to bus painters. As with all ARTomation systems, the software is designed to minimize training time and maximize painting time.
Atomizer Control - Pneumatic trigger solenoids, as well as atomization and shaping air transducers are integrated with motion. The MAX series can be combined with our universal bell speed controller and integrated electrostatic controls to provide a completely integrated atomizer/motion control system.
Fluid Delivery - The MAX series can be combined with our integrated fluid delivery options for a complete drop in coating system. Fluid delivery can accommodate water borne, solvent borne, multiple component and UV coatings.
Explosion Proof - Systems are available for both explosion proof and dust proof applications.
Precise Motion - The MAX Series motion system uses heavy-duty precision servo drive motors, a non-slip cogged belt and digital control technology to deliver repeatable, accurate positioning.
Flexible: Footprint Fits Existing Booths - Available in a full range of sizes. Designed to fit into an existing spray booth or custom designed for large parts.
Easy to Use - The Windows OS interface is intuitive and easy to use.
Video Demonstrations
See other Artomation products/services.